Surface water monitoring
Staff collect surface water chemistry samples eight times a year on a monthly basis during ice-free periods, from 29 sampling stations, as part of a monitoring partnership with the Ministry of the Environment, Conservation and Parks (MECP).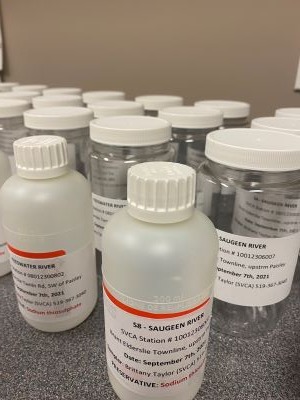 Samples are taken from all of the major sub-watersheds of the Saugeen River, including both major tributaries and smaller waterways. In addition, staff also sample lake-fringe watercourses that empty directly into Lake Huron.
Some water quality parameters are measured in the field when samples are taken, such as temperature, conductivity and dissolved oxygen, while other parameters such as nitrates, phosphorus and E. coli are analyzed at the MECP or private laboratories.
Information gained assists in determining long-term trends in the quality of surface water. It also assists in detecting general causes of water quality impairment and in evaluating the effectiveness of various conservation efforts.