Accessibility and Customer Service Standards
The Accessibility for Ontarians with Disabilities Act, 2005 (AODA) is a provincial act to benefit all Ontarians by developing and implementing accessibility standards that identify and remove barriers for people with disabilities in key areas of daily living. The AODA is no ordinary piece of legislation. It is an ambitious means to ensure the inclusion of people with disabilities in Ontario.
Government of Ontario Accessibility Laws
Integrated Accessibility Standards Regulation (IASR)
Ontario's Human Rights Code
Ontario's Building Code
If you require alternative formats of information, or additional support while accessing any SVCA service, please email our Accessibility Officer.
Accessible customer service
All Saugeen Valley Conservation Authority employees, volunteers, contractors, consultants and Board of Directors must complete AODA and Human Rights training. To submit certification or request training, please contact our Accessibility Officer.
This training includes:
How to interact with people with various disabilities
How to interact with people who may use an assistive device or the assistance of a support person, guide dog, or other service animal to access goods and/or services at our office or properties,
What to do if a person with a disability is having difficulty accessing services.
Feedback​
SVCA welcomes comments on the provision of any goods or services to persons with disabilities. Feedback helps to identify areas where changes need to be considered and ways in which we can improve the delivery of accessible goods and services.
You may provide your feedback by telephone, e-mail, in person, or in writing. Staff will review your comments and, if requested, a response will be provided in the manner indicated.
You may also provide feedback using our online form, knowing that while it is intended to provide a consistent format for receiving feedback information, it is not meant to be the exclusive format for receiving feedback.
Telephone: 519-364-1255
E-mail: publicinfo@svca.on.ca
In person or in writing to:
Saugeen Valley Conservation Authority
Attn: Accessibility Officer
1078 Bruce Road 12, P.O. Box 150
Formosa, ON
N0G1W0
Customer service standards
SVCA is committed to providing excellent customer service in every aspect of our business. We aim to provide a high standard of effective service to all of our customers, including clients of all programs and services, municipal and community partners, stakeholders, and members of the public.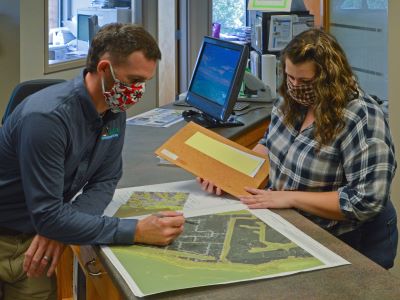 We commit to providing customer service that is timely, welcoming, and helpful,
We will provide knowledgeable, professional, and courteous service,
We will treat you with respect, fairness, openness, and equality,
We will maintain customer confidentiality and abide by all privacy legislation,
We will ensure services are accessible to all and provide information in alternate formats upon request.
Notice of temporary service disruption
Notice of service disruption shall be provided when facilities or services that people with disabilities usually use to access SVCA's goods or services are temporarily unavailable or are expected in the near future to be unavailable. Notice may be given by posting appropriate signage on location, on SVCA's website and social media, or any other such method as is reasonable in the circumstances.