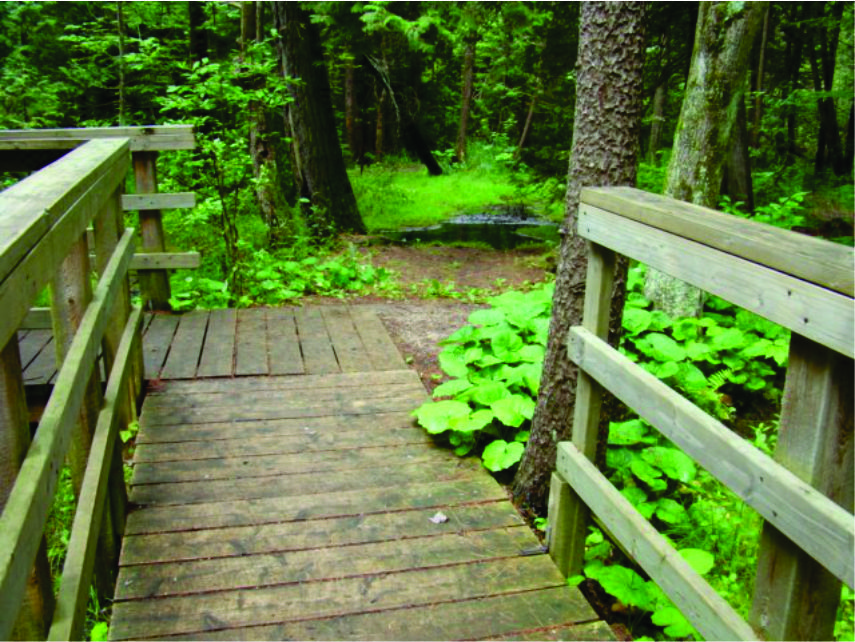 Sulphur Spring
Visitors can enjoy the fish ponds at Sulphur Spring. Full grown trout swim in the fresh clean water which comes from the sulphur spring. Be sure to visit our recreational trails and explore this beautiful area!
This Conservation Area is one of our most popular day-use parks. Sulphur Spring is the site of a cold sulphur spring. It maintains a constant flow of groundwater (enough to fill 27 bathtubs per minute). The spring maintains a constant temperature of 9C. As you approach the spring, you may notice a sulphur odour. Water flows through an underground sulphur layer. It then emerges to feed the streams and ponds. The same odour is present at rapids and waterfalls where the water mixes with the air.
Location
Sulphur Spring Conservation Area is located 4.8 km south of the town of Hanover off Grey Road 28.
Address: 261123 Grey Rd. 28, Hanover, ON N4N 3B8
Recreational trails
Sulphur Spring features over 4.5 km of recreational trails. You will find different habitats, unique flora, and hundreds of ducks and geese.
There are four trails at Sulphur Spring:

Sulphur Spring Trail (20-25 min)
Corduroy Trail (10 min)
Rabbit Road Trail (30 min)
Hardwood Highlands Trail (30-45 min).

The recreational trails are open year-round.
Please remember you are visiting a wildlife sanctuary. Please stay on the marked trails to ensure plants are not trampled and you are walking on safe ground.
Fishing
There are no fishing opportunities on this property.
Visit our Fishing page for more information.
Hunting
Hunting is NOT permitted on this property.
Please see our Hunting page for more information.
Fees
There is a $5.00 parking fee to access Sulphur Spring.
Pay Day Use Parking Fees Online:
Pay for single vehicle one day parking at any Saugeen Conservation Area: click here.
Pay for single vehicle annual parking at any Saugeen Conservation Area: click here.
Amenities
Parking
Pavilion
Playground
Washrooms
History
This property was the creation of A.J. Metzger, a man who had a great deal of respect and love for nature.
In the 1920s he directed the digging (by hand) of a network of streams and ponds on the grounds. This was to support a fish hatchery.
He also built shelters and pens for exotic birds and wildlife.
The hard sulphur waters would not support young fish.
In 1969, we purchased this beautiful park as a site for our main office (since relocated to Formosa, ON).
This property is a combination of a Conservation Area and Managed Forest.