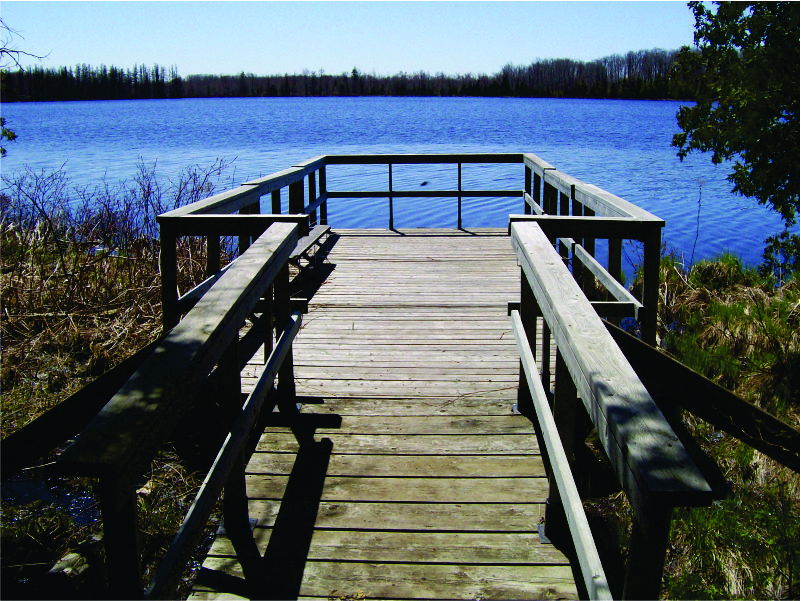 Schmidt Lake
Schmidt Lake is a Wetland Complex within the Greenock Swamp. This swamp is well known for its size and history. It is one of the most diverse natural areas in Grey and Bruce Counties.
You can view 11 species of birds of prey here, and 8 of these nest on this property. There are also many species of orchids there. In the winter months, use the trails to snowshoe or cross-country ski. In the summer months, view the lake from the dock or wander through the trails.
Location
GPS 44.1718,-81.3069
You can find the Schmidt Lake trails north one Concession road from the village of Chepstow.
Public access is at Schmidt Lake on the eastern edge of the swamp.
Recreational trails
There are over 7 km of trails at Schmidt Lake.
In summer, take in the view from the Schmidt Lake Lookout and walk along the floating boardwalks.
In winter, cross-country ski, hike or snowshoe the network of recreational trails.
Fishing
There are no fishing opportunities at this property.
Hunting
Waterfowl hunting is NOT permitted at Schmidt Lake.
Fees
There are no fees to visit this property.
Amenities
There are no facilities at this property.
History
Schmidt Lake is part of the Greenock Swamp. It is Southern Ontario's single largest forested wetland at about 8,094 ha (20,000 acres).
We own about half of this vast wetland, a total of 3.439 ha.
The swamp acts as a giant sponge. It releases water during periods of drought and absorbs water during heavy rainfall.
It is the most diverse natural area in Grey and Bruce Counties.
Schmidt Lake is a Wetland Complex and Managed Forest.