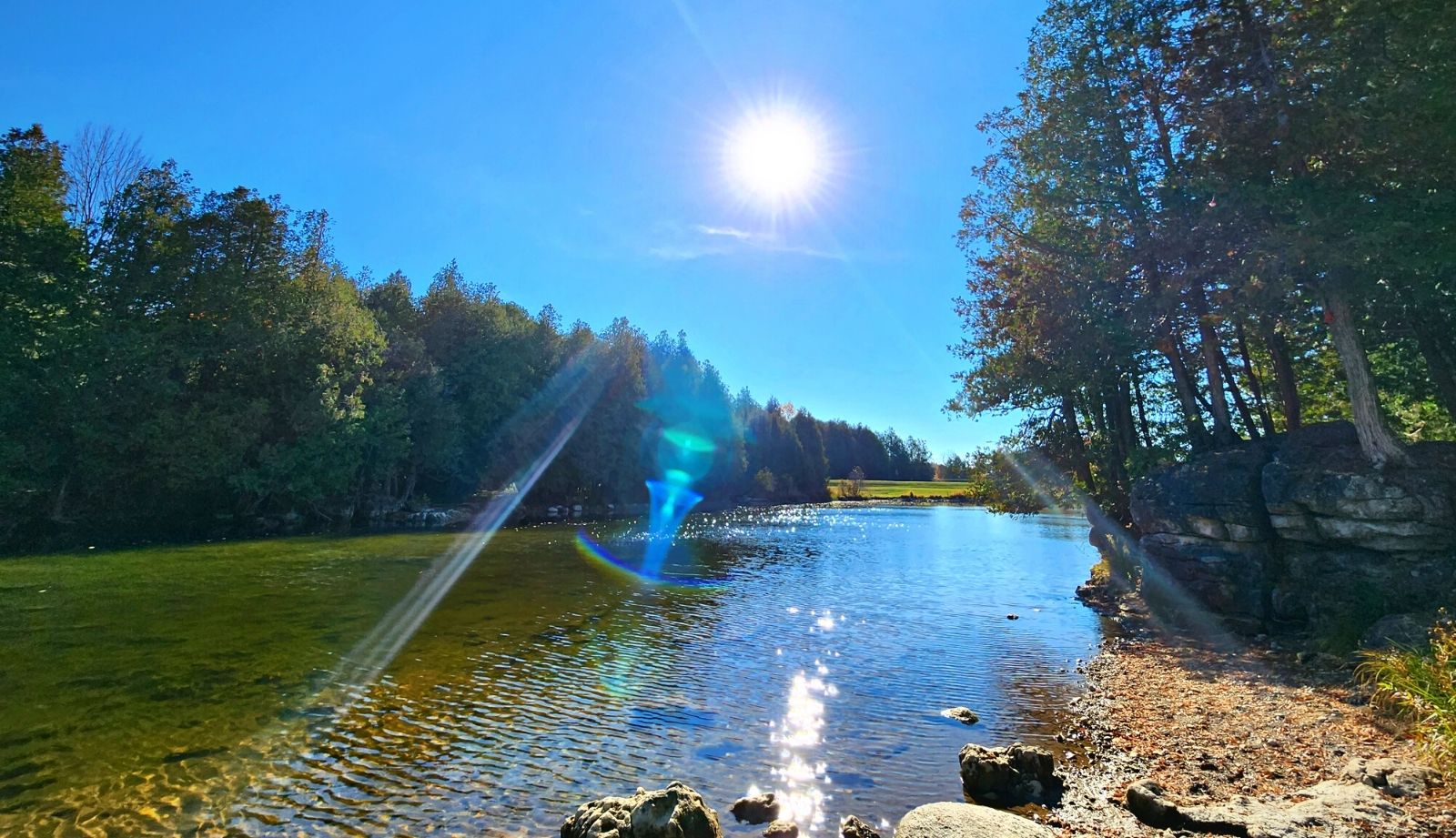 Saugeen Conservation Meeting Summaries.
Stay up to date.
SVCA Board of Directors Meeting Summaries
The following is a summary of major discussion items presented at SVCA Board of Directors meetings. For upcoming meetings, minutes and agendas, please visit our Meeting Calendar.
October 20th, 2022
New staff introduced to the board included: Trent Francis Regulations Officer 12 month contract; Vivian Nolan Resources Information Technician; James Pearson Flood Forecasting and Warning Coordinator.
Several Saugeen Bluffs staff were recognized for life saving efforts performed during the summer of 2022.
Kim Clarke from RTO7 presented a report on data pulled geofences set up around Allan Park, Denny's Dam, Durham, Saugeen Bluffs and Sulphur Spring Conservation Areas. The report delivered estimated numbers of visitors to these locations in 2021, and where they were travelling to those CAs from. The report observed that all of the aforementioned areas are popular with locals, and that there is public desire to see continued enhancement and maintenance the properties.
2023 Proposed Budget for Saugeen Conservation was approved at $6,007,080.
New policies approved by the Board of Director included: Social Media, Electronic Monitoring, Marketing and Communications Approval, Acceptable Use, Fall Protection, Ladder Safety, Working in Lightning Safety, Heat Stress Prevention and Hot Weather.
A strategic plan update was given by Jennifer Stephens, General Manager/Secretary-Treasurer, that summarized all feedback given during the public consultation process.
December 15th, 2022
The inaugural meeting of the Board of Directors of Saugeen Valley Conservation Authority brought new faces to the table. For a list of our current board, please click here.
SVCA General Manager Jennifer Stephens gave a Board of Directors Orientation presentation, which covered information regarding the Conservation Authorities Act and its recent changes, administrative bylaws, hearing procedures, remuneration, additional committees including Drinking Water Source Protection, departmental summaries, as well as funding and budget summaries.
The General Manager's report listed numerous council delegations and staff accomplishments.
The finance report was accepted, with analysis showing general levy programs ending the year in a neutral position, and non-levy programs expected to show surplus, which would be allocated to reserves as approved.
SVCA Fee Policy and Fee Schedules were approved, and can be found here.
A report on Bill 23 More Homes Built Faster Act, 2022 was presented by General Manager, Jennifer Stephens. She noted, "For the time being, it is business as usual for our plan review services, and planning applications should continue to be circulated for our review. Our permitting services continue uninterrupted except for new provisions concerning Minister's Zoning Orders and Community Infrastructure and Housing Accelerator Orders." For specific details with respect to the dates of Provisions of the Act will come into place, please review the meeting agenda.
The 2023 Authority Meeting schedule was approved, with dates as follows:
| Date | Time |
| --- | --- |
| Thursday, January 19th, 2023 - Annual Meeting | 1:00pm |
| Thursday, February 16th, 2023 | 1:00pm |
| Thursday, March 16th, 2023 | 1:00pm |
| Thursday, May 18th, 2023 | 1:00pm |
| Thursday, July 20th, 2023 | 1:00pm |
| Thursday, September 21st, 2023 - Budget Review | 1:00pm |
| Thursday, October 19th, 2023 | 1:00pm |
| Thursday, December 21st, 2023 | 1:00pm |
January 19th, 2023 - Annual Meeting
The annual meeting of Saugeen Valley Conservation Authority was held January 19th, 2023 in person at the Administrative Office in Formosa.
Many greetings were shared by member municipalities, the past chair Maureen Couture, General Manager/Secretary-Treasurer Jennifer Stephens, as well as from Huron-Bruce MPP Lisa Thompson and MP Ben Lobb.
Staff recognition awards were given to the following SVCA employees:
Lorne Chamberlain, Field Operations Assistant: 5 years
Erik Downing, EPR Manager: 15 years
The executive were elected as follows:
Chair: Barbara Dobreen
Vice Chair: Tom Hutchinson
2nd Vice Chair: Paul Allen
Member at Large: Steve McCabe
Committee appointments as follows:
Forestry committee: Tom Hutchinson, Paul Allen, Moiken Penner, Dave Myette
Property and parks committee: Bill Stewart, Larry Allison, Moiken Penner, Bud Halpin, Paul Allen
Water Resources: Tom Hutchinson, Greg McLean, Dave Myette, Bill Stewart
Agricultural Advisory: Steve McCabe, Dave Myette, Kevin Eccles, Mike Niesen
A thorough presentation was given by Forestry and Lands manager Donna Lacey, detailing the function and history of the work done by that department, as well as an introduction to staff.
February will see a departmental presentation by Corporate Services, and Water Resources is scheduled for March. A separate training meeting to cover Environmental Planning and Regulations will be set as soon as possible.
To read the agenda in its entirety, please click here.
February 16th, 2023
The February meeting of Saugeen Conservation's Board of Directors was held at the administration office in Formosa, ON. The meeting began with a presentation from Glenn Sheppard of Marsh Insurance, which detailed the corporations coverage, risk management, board liability and coverage in a comprehensive overview. 34/36 conservation authorities use Marsh, which enables them to provide their clients with up to date best practices, as well as buying power. Mr. Sheppard spoke about the "new reality of risk", and the importance of documentation and due diligence.
Sean Michael Stephen of Watson and Associates Ltd gave a delegation summarizing the Plan Review and Permitting Fee Review they performed. Watson assessed the full cost of service for plan review and permitting activities and made specific recommendations over three difference scenarios. Fee comparison charts showed SVCA's current fees for property clearance, minor, standard and major development are in the middle to lowest end of the spectrum compared to other CAs. SVCA is competitively priced.
Carl Seider, project manager of Drinking Water Source Protection (DWSP), delivered a primer on DWSP's history, scope and function. DWSP is a mandatory program that protects the quality and quantity of current and future sources of municipal drinking water.
Corporate Services manager Laura Molson gave an introductory presentation, detailing the roles and characters within the department. Accounting, finance, communication, education, scanning, GIS, finance and executive assistance provide support to all departments at Saugeen Conservation.
SVCA's strategic plan update, workplan, committee terms of reference, provincial offences officer endorsements, and EPR permit endorsements all passed unanimously.
The read the agenda in its entirety, please click here.
March 16th, 2023
The March meeting of Saugeen Conservation's Board of Directors was held at the administration office in Formosa, ON.
During the meeting, John Bujold from Baker Tilly SGB LLP presented the draft of the 2022 Audited Financial Statements, which were approved as presented. Elise MacLeod gave a presentation on Water Resources. The General Manager's Report was given verbally by Jennifer Stephens. The board received reports for information on the 2023 Workplan Update, Finance, Program, and News articles.
Under New Business, Jennifer Stephens proposed changes to the SVCA Administrative Bylaws, which were approved along with an endorsement of the review of the bylaws by legal counsel.
Erik Downing's request for endorsement of Development, Interference with Wetlands and Alterations to Shorelines and Watercourse applications was approved. The board also approved two policies: Cold Weather Work and Personal Protective Equipment.
To read the agenda in its entirety, please click here.
May 18th, 2023
The May meeting of Saugeen Conservation's Board of Directors was held at the administration office in Formosa, ON.
All reports for information, including the 2023 Workplan Update, were accepted. The 2023-2033 Strategic Plan was received, with another meeting of the Board pending for further review. The Programs and Services report was also received, with direction of SVCA staff to pursue discussions with municipalities regarding Category 3 Agreements.
A one year pilot program agreement with Grey County for prosecution services was approved to move forward, and phase 1 of the Durham Upper Dam Environmental Assessment was approved pending WECI funding.
The Flood Hazard Identification Mapping contract was awarded to D.M. Wills Associates Limited, and staff have been directed to discontinue lease discussions with a potential investor regarding potential rehabilitation of the Walkerton Hydro Dam.
Chris Cossitt, Les Nichols, Paul Wettlaufer, Karen Gorman, Katie Normet, Allan Willits, and Meg Roberts were appointed to the Saugeen Valley Conservation Authority Agricultural Advisory Committee for the 2023 calendar year.
Staff were directed to purchase software to support hybrid board meetings, and a Conservation Authority Content Management System.
To read the agenda in its entirety, please click here.



July 20th, 2023
The July meeting of Saugeen Conservation's Board of Directors was a hybrid meeting, in part held at the administration office in Formosa, ON.

The meeting began with Erik Downing, Manager of Planning and Regulations, assuming the duties of Acting General Manager, Secretary-Treasurer.

All reports for information, including an update regarding the Varney Pond infrastructure, were received.

The Board proceeded to approve all matters arising from the minutes, including an update to Category 3 Programs and Services, and floodplain mapping program budget allocation for Durham Creek and the Town of Saugeen Shores.

All new business motions passed, including the proposed staffing plan for the water resources department, the year three scope of work for NWMO, permit approvals, a planning application approval for the Southampton Seniors Care Facility, and Agricultural Advisory Committee terms of reference.

To read the agenda in its entirety, please click here.