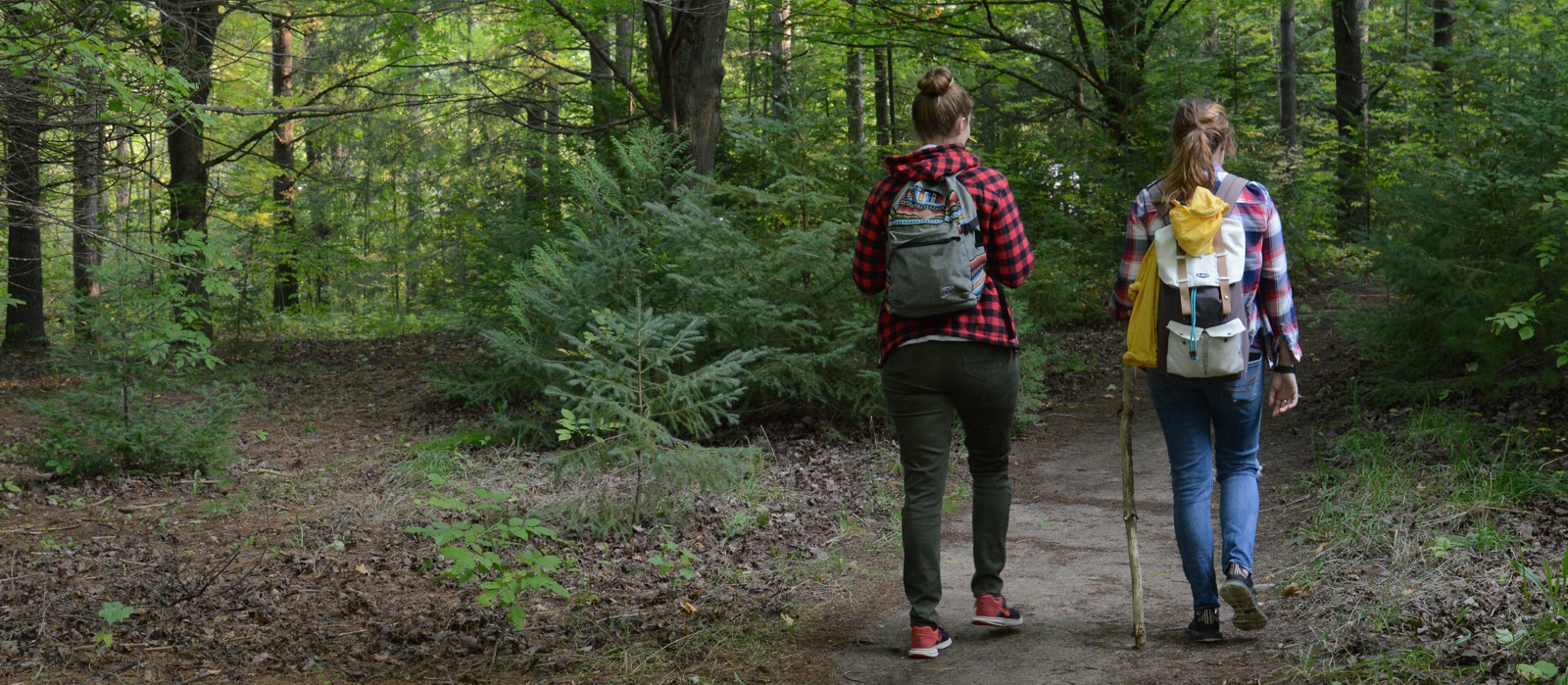 Recreational Trails and Hiking
Saugeen Conservation has many recreational trails for you to enjoy. While exploring, please stay on marked paths.
Our trails are "use at your own risk" areas.
Don't hike alone, but if you have to - let someone know where you are and when you will return. Beware of weather conditions - make sure you check the forecast before you head out.
Watch for ticks when you are hiking. You can find great information about ticks on the Ontario.ca website.
Hope for the best but prepare for the worst. Unexpected things can always happen!
Below, you will find a list with links to the properties with recreational trails for you to use. Each page has a Recreational Trails section that will have information on our recreational trails, and a map to use on your visit.
If you have questions about our trails or properties, please email us using this link.
Saugeen Conservation properties with recreational trails:
Here are some things to consider and plan for before you head out on a hike:
Checklist for hiking
Hat
Whistle
Water
Plastic bag (for trash)
Sunglasses
Compass
Protein bars
Identification
Sunscreen
Cell phone or communication device (fully charged)
Trail map
Multi-tool
Insect repellent (deet is most effective)
First aid kit
Flashlight
Rain gear
Wear the right clothing
Proper footwear

Look for shoes that have good soles.
Make sure you have good ankle support.

Pants

Avoid wearing jeans - they are heavy when wet and have very little give.
Light weight, quick drying pants are best.

Shirts

Consider the weather when deciding what to wear.
Layers are important and you need to keep your core warm.
Cotton can hold on to sweat and leave you feeling wet and clammy.

Rain gear

You should wear rain gear depending on the weather forecast.
Since you will be carrying these items, make sure you pick something light weight.

During hunting season

Wear blaze orange and cover your backpack in blaze orange.
This will allow hunters to see you well.
Stay safe on the trail
Plan a route including departure time, estimated return time and a "send help" time.
If you have to go alone, make sure you leave a copy of your plan with someone.
Have an exit plan in case of bad weather or injury. Check the forecast before the area before you go.
Know emergency numbers for proper authorities for the area.
Stay on the trail
Stick to existing trails.
Stepping off the trail can cause damage to delicate ecosystems.
If it is wet and the trails are muddy, try to go another day. Walking around mud patches and puddles can cause erosion and long term damage.
Know the right of way
You may encounter other hikers, cyclists or even horse back riders and need to know trail right of way rules:
Horseback riders

You must move and give them the right of way.
If horses are spooked, they can cause a dangerous situation.
Announce your presence in a calm voice when approaching.
If possible, step off the trail on the downhill side. It is less stressful for the horse.

Cyclists

It is their responsibility to yield to hikers.
Cyclists can stop and move to the side faster than a hiker or horseback rider.

Other hikers

If you are a solo hiker or part of a group, you must give way to larger groups.
Break into a single line so they can pass.
If you are on a hill, those traveling downhill should make way for those traveling uphill.
Always pass on the left.
Announce your presence in a calm voice when approaching hikers from behind.
Be friendly
Remember no hiker is more important than another.
Basic etiquette says you need to make an effort to allow enough room for another hiker to pass.
Don't stand in the middle of the trail and make them go around you.
Restrain your dog if you have one with you and make sure they are on a leash.
Announce yourself in a pleasant and calm way and avoid yelling to people ahead on the trail.
Give a smile and a nod to those you meet along the way - it might make their day!
Noise pollution
Remember, everyone is here to enjoy the outdoors.
Try to keep noise at a respectful level.
Avoid the use of modern technology (blaring music, phones ringing). Use headphones or put your phone on silent mode.
High noise levels disturb humans and wildlife. You risk seeing something spectacular!
Take the opportunity to take in all the peaceful, relaxing sounds of the great outdoors.
Don't feed the wildlife
NEVER feed the wildlife.
Your food might be something the wildlife would eat. By feeding them, you can cause a long term negative effect on natural behaviours. This can expose them to other dangers and predators.
Feeding wildlife interferes with their natural ability to forage for food.
If you stop for a snack, leave nothing behind that may harm these beautiful creatures.
Be a responsible pet owner
Not all trails are dog friendly. You should check before you go to make sure they are able to come with you.
Check leash laws for the area (ours state no more than a 6 foot leash).
The leash protects wildlife, other hikers and your dog.
Some people are very afraid of dogs.
Some people have unsocial or frightened dogs that don't always welcome attention from others.
Never let your dog loose on the trail.
Assume everyone you meet is afraid of dogs.
Poop and scoop is mandatory on all our properties, so bring a poop bag and carry it out with you.
Never leave your bag behind for someone else to pick up.
This also means picking up after your horse.
Leave no trace
Leave the trail like you were never there.
Take garbage out with you and pick up garbage if you see it along the way. This will leave the trail even better than when you got there!
Feel free to take pictures but don't take souvenirs.