Bruce Grey Forest Festival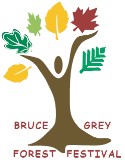 Over 35 hands-on curriculum-based activity centres introduce grade seven students to our forests and the interactions within the ecosystem. This day-long program brings them to the forest to learn first-hand about our forest resources, stewardship, species at risk and much more. These centres connect classroom learning with the actual forest ecosystem.
Visit the Bruce Grey Forest Festival website for more information.