2023 Watershed Report Card
Saugeen Conservation has prepared this report card as a summary of the 2017-2021 state of water quality, forests, and wetlands in our watershed. These report cards are released every five years together with Conservation Ontario.
A watershed describes an area, and the waterways that flow through it and towards a major outlet such as a lake. Everything in a watershed is connected and actions upstream can affect conditions downstream.
We measure certain features in our watershed to learn about their current condition, as well as trends. This information helps us plan for the future.
The map below shows all 36 conservation authorities, and Saugeen Conservation's boundaries.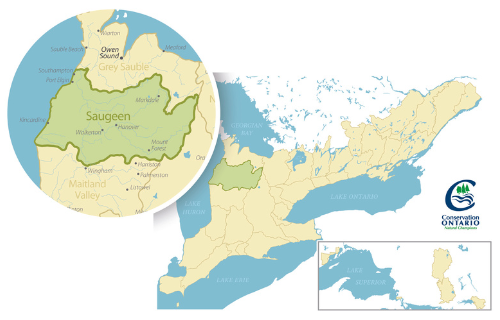 For our findings on each area of interest in the watershed report card, please explore below:
What can you do to support the health of our watershed?
Support your local conservation authority through donation
Volunteer with local environmental organizations
Advocate for the environment through delegations to municipal council, and engaging your elected officials
If your municipality has an environmental committee of council, consider joining
Ask your local government to support environmental initiatives
If you have a septic system, inspect and pump it every three to five years
Dispose of household chemicals at hazardous waste depots
Plant native species and educate yourself on invasives in your area
Consider how we are all connected.
Have questions?
Saugeen Conservation
1078 Bruce Rd. 12 Box 150, Formosa, ON, NOG 1W0
Email us!
519-364-1255
Visit: watershedcheckup.ca