Posted on Thursday, July 13, 2023 10:37 AM
Saugeen Valley Conservation Authority (SVCA)
Will Begin Ash Tree Removal at Stoney Island Conservation Area in August 2023;
Public Meeting to be held at Kincardine Davidson Centre July 25, 2023
KINCARDINE, ONTARIO – Stoney Island Conservation Area, located at 434 Bruce Road 23, Kincardine.
Since arriving in Ontario in the early 2000s, the emerald ash borer (EAB) has destroyed millions of ash trees. Emerald ash borer is a highly destructive, non-native, wood-boring beetle that feeds under the bark of...
Posted on Wednesday, May 24, 2023 09:45 AM
FOR IMMEDIATE RELEASE – May 23rd, 2023
Saugeen Valley Conservation Authority announces the Varney Conservation Area Swimming Pond in West Grey will be closed until further notice
SAUGEEN WATERSHED, ONTARIO – Bruce, Dufferin, Huron, Grey, and Wellington Counties.Varney Conservation Area's swimming pond has served as a picturesque backdrop for generations of families, residents, and visitors. We fully acknowledge the historical significance and emotional attachment many have to this location.
"We...
Posted on Thursday, July 27, 2023 12:02 PM
FOR IMMEDIATE RELEASE – July 27th, 2023 Saugeen Conservation in Partnership with Water's Edge Environmental Solutions,
Commence Critical Floodplain Mapping Study
TOWN OF SAUGEEN SHORES, ONTARIO –
In an effort to bolster community resilience and safety, Saugeen Valley Conservation Authority (SVCA), in collaboration with Water's Edge Environmental Solutions, has launched a vital study to update floodplain mapping in the Southampton area. The primary goal of this initiative is to enhance our...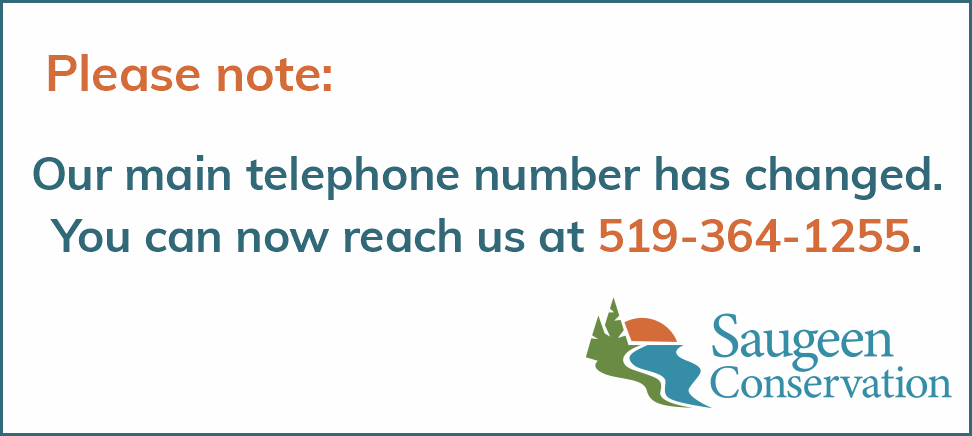 Posted on Monday, February 28, 2022 03:38 PM
Please note that as of today, our telephone number has changed from 519-367-3040 to 519-364-1255.
You can visit our Contact Us page for extensions for each staff member, or cell phone numbers if they do not have an extension assigned.

Posted on Tuesday, November 09, 2021 12:20 PM
PRESS RELEASE
For Release: Immediately
November 9, 2021
Saugeen Conservation Launches New Website and Unveils Logo
South Bruce - Saugeen Valley Conservation Authority (SVCA) is excited to announce the launch of its new website, www.saugeenconservation.ca and its new logo. One of Ontario's 36 conservation authorities, Saugeen Conservation has not had a refresh of its inaugural website in several years and an assessment of its logo in 20 years. ...