Hiring Resources Information Technician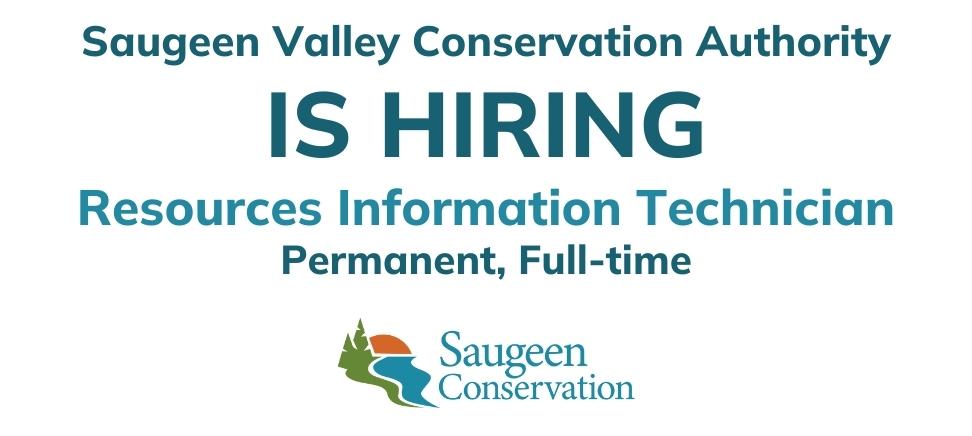 SVCA - Job Posting
Resources Information Technician
Permanent, Full-time
The Saugeen Valley Conservation Authority is one of thirty-six conservation authorities in the Province of Ontario. Conservation authorities are community-based watershed management agencies, whose mandate is to undertake watershed-based programs to protect people and property from flooding, and other natural hazards, and to conserve natural resources for economic, social, and environmental benefits.
Why work for us?
SVCA's Administrative Office is situated in the heart of the Saugeen Valley watershed. We offer
competitive public sector pay. With our small, but passionate team, you will know your co-workers by name, will make friends fast, and will have direct access to the considerable knowledge of these individuals.
Summary of Functions
Saugeen Valley Conservation Authority's Environmental Planning and Regulations Department is responsible for ensuring that proposed development and site alterations are carried out in conformance with the Authority's policies and procedures. The Regulations team is responsible for the implementation and enforcement of Section 28 of the Conservation Authorities Act for the Saugeen Valley Conservation Authority (Ontario Regulation 169/06 - the Development, Interference with Wetlands and Alterations to Shorelines and Watercourses Regulation). The environmental planning team is primarily responsible for the review of Planning Act applications, relative to the SVCA's mandate and role, while also responding to requests from the public.
This position is responsible for providing planning and regulations information to the public and maintaining the files and database for the Environmental Planning and Regulations program. The individual will work closely with Authority planning and regulations staff.

Eligibility Requirements
The ideal candidate will have the following qualifications:
• Graduation from a recognized College or University in planning, geography, environmental
sciences, environmental remediation, resources technology, or other related discipline;
• Knowledge and experience with the Conservation Authorities Act and Section 28 Regulation,
would be considered an asset;
• Working knowledge of environmental legislation, permit approval processes, and some technical
guidelines would be considered an asset (i.e., coastal and water-related engineering);
• Excellent knowledge of current water and environmental management principles and practices
including relevant federal and provincial legislation;
• Ability to work with GIS software products is considered an asset;
• Strong organizational skills;
• Solid ability to communicate effectively both verbally and in writing in English with diverse stakeholder groups at a political and staff level;
• Ability to work well in a team setting with other staff;
• Ability to maintain good public relations with the public;
• Initiative and good interpersonal skills;
• Proficiency with standard office software including MS Word, Excel, PowerPoint, database
software, and use of digital mapping software; and
• Must possess and maintain a valid Ontario "G" driver's license.
Duties and Responsibilities
1. Provide initial environmental and technical information in response to inquiries from the public.
2. Organize and maintain the department's records and files.
3. Coordinate new files for follow-up by department staff.
4. Operate and maintain the department's record database.
5. Search for and retrieve files for department staff.
6. Collect relevant background data for new inquires/ proposals and forward it to appropriate staff.
7. Assist with incorporating department data into the Authority's Geographic Information System.
8. Keep up-to date on applicable policies, procedures, and projects.
9. Assist Department staff with their duties. Site inspections may be necessary.
10. Other duties as assigned appropriate to the position.
Additional Information:
Work Environment/Conditions:
• Most work takes place in an office; however, some outdoor site inspections will be required which
includes some physical effort (e.g., navigating uneven terrain).
• Frequent multitasking to meet deadlines from multiple sources in a fast-paced work environment.
• High volume of inquiries to address within an appropriate time frame to ensure customer satisfaction
• Occasional receipt of verbal pressure from external clients.
• Travel is normally within the Saugeen Watershed.
Location, Wage, and Hours:
• Position will be based out of SVCA's Administrative Office at 1078 Bruce Road 12, Formosa.
• Salary Range: $27.46/hour - $32.54/hour
• Hours: 37.5 hours per week
• Benefits: Yes
Start Date: July 2022
Closing date for applications: June 13, 2022

Please submit your cover letter and resume outlining how your experience meets the necessary qualifications to:
Janice Hagan, Executive Assistant
Saugeen Valley Conservation Authority
1078 Bruce Road 12, P.O. Box 150, Formosa, ON
N0G 1W0
E-mail

Email is preferred submission method. Submit your cover letter and resume as one .pdf document. Document file name and email subject line should be your name followed by _RIT2022 (Eg. Janice.Hagan_RIT2022.pdf). We thank all applicants for their interest, but only those considered for an interview will be contacted.
SVCA is an Equal Opportunity Employer. In accordance with AODA (Accessibility for Ontarians with Disabilities Act, 2005), SVCA will provide accommodations throughout the recruitment, selection and/or assessment process to applicants with disabilities. If you require disability – related accommodations, please inform SVCA Administrative Staff. All personal information is collected under the authority of the Municipal Freedom of Information and Protection of Privacy Act (MFIPPA).