Accounts Receivable / Payroll Clerk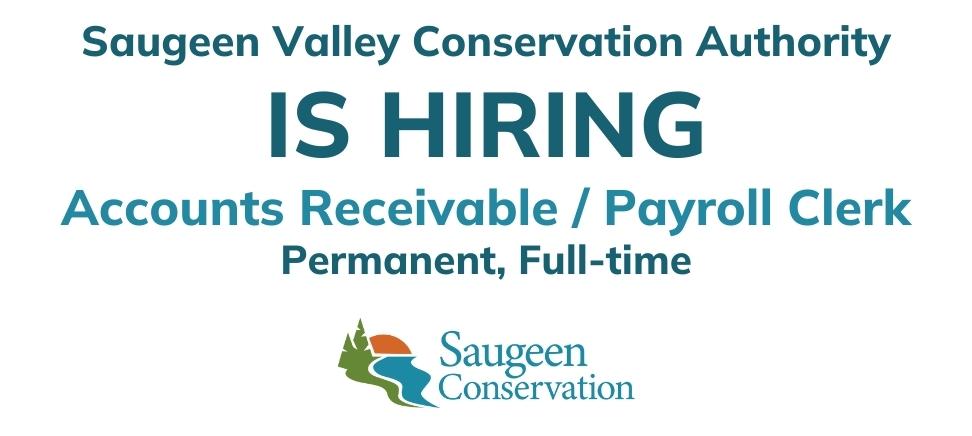 SVCA JOB POSTING
Accounts Receivable/Payroll Clerk – Permanent, Full-time
Saugeen Valley Conservation Authority is one of thirty-six conservation authorities in the Province of Ontario. Conservation authorities are community-based watershed management agencies, whose mandate is to undertake watershed-based programs to protect people and property from flooding, and other natural hazards, and to conserve natural resources for economic, social, and environmental benefits.
Why work for us?
SVCA's Administrative Office is situated in the heart of the Saugeen Valley watershed. We offer competitive public sector pay and comprehensive benefits. With our small, but passionate, team you will know your co-workers by name and will have direct access to the considerable knowledge of these individuals.
Summary of Functions:
The Accounts Receivable/Payroll Clerk, under the direction of the Manager, Corporate Services, is primarily responsible for main reception duties, administering the Authority's accounts receivable program, and the Authority's payroll program. This position processes camping reservations for two of the Authority's campgrounds and is the main point of contact for inquiries from staff and the public concerning the campground reservation system.
Eligibility Requirements:
The ideal candidate will have the following qualifications:
• Education in Accounting or Business Administration or other related discipline;
• At least two years' experience associated with main duties and responsibilities considered an asset;
• Proficiency with standard office software including MS Excel, Word, Outlook
• Knowledge of Adagio accounting software, PayDirt payroll software and CAMIS reservation software is an asset;
• Strong organizational skills;
• Ability to communicate effectively verbally, both in person and over the phone;
• Ability to maintain good public relations with the public;
• Ability to work well in a team setting with other staff; and
• Must possess and maintain a valid Ontario "G" driver's license.
Duties and Responsibilities:
Reception
Answer and direct incoming calls and assist in person clients, in a professional manner.
Maintain knowledge of staff whereabouts to successfully direct inquiries.
Accounts Receivable
Preparation of invoices and customer statements.
Maintenance and collection of accounts receivable.
Process incoming payments made by phone, mail, or electronic means.
Code and input receipts including preparation of bank deposits.
Assist in month-end and year-end account reconciliation.
Payroll
Administer the Authority's payroll program including collection of time sheets, data input, and bank transmissions.
Prepare government remittances.
Annual government remittance reconciliation.
Process quarterly Authority member per diems.
Annual T4 reporting.
Maintain personnel records regarding vacations, sick leave, overtime, and leaves of absence.
Campgrounds
Reconciliation of campground daily shift reports and inputting information into accounting software.
Assist with training of gate house staff on software programs.
Assist with all camping inquiries where issues arise surrounding bookings, payments, or refunds.
Process camping reservations off season or when required.
Maintain seasonal camping contracts and agreements.
Manage online camping reservation system (CAMIS), including business rules, site resources, submitting program issues, and monitoring changes.
Additional Information:
Work Environment/Conditions
Office environment
Frequent multitasking to meet deadlines from internal sources
Occasional travel within the watershed may be required
Location:
Position is based at the SVCA's Administrative Office at 1078 Bruce Road 12, Formosa, ON.
Wage and Benefits:
Salary: $53,555 -$63,453
Hours: 37.5 hours per week
Benefits: OMERS pension
Comprehensive Benefit Package
Closing date for applications: June 3, 2022
Start Date: July 4, 2022
Please submit your cover letter and resume outlining how your experience meets the necessary qualifications to:
Laura Molson, Saugeen Valley Conservation Authority
1078 Bruce Road 12, PO Box 150, Formosa, ON N0G 1W0
l.molson@svca.on.ca
Email is the preferred submission method. Submit your cover letter and resume as one .pdf document. Document file name and email subject line should be your name followed by _ARCLERK (Eg. Laura.Molson_ARClerk.pdf).